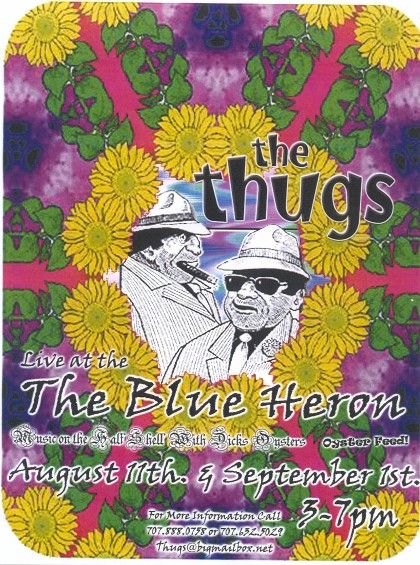 The Thugz! ? Yes, the Thugz. It's always interesting when our band ventures into a new geographical area and some folks react with horror to our "name". To our local fans and ourselves it is such a non issue. How did we end up- with this moniker anyway? Well, long, long ago in a bar not so far away.....
  Back in the late 90's,  a few friends and I had an informal band called "Miasma" (a kind of stinky swamp gas/what a name also!). We would jam/rehearse every Saturday night in Cazadero and we did some shows with a light show and poet at Connolley's Pub in Guerneville (now the site of the copy/Fedex shop). Some of us from that group eventually teamed up with another couple of guys and began playing gigs at McTee's Bullpen in Guerneville under the name  "Altered Natives". At that time we were more of a Blues Brothers kind of band. Our drummer, Theo, began scouting for other bookings. When he went to Jasper O'Farrell's in Sebastopol  the owner Jack agreed to give us a shot. When he asked the band's name Theo told him "Altered Natives".   "That name sounds like some kind of neutered dog or something" Jack said. "Besides, I like to write the name of the bands on the club window and that name is just too long to fit" he added. Without missing a beat Theo belted out "How about the Thugs?"  "Perfect!" said Jack.
  Well, no one seemed much bothered by it at all. Later on though after 911,the War on Terror and the proliferation of gangsta rap, etc. really got going the name thugs became rather nasty. Every other word out of George Bush's mouth seemed to be thug.  At least people were talking about us. Oh well, we changed the s to a z and continued on.  Actually there was a cult called thuggies that worshiped the goddess Shiva in ancient India that had some very unpleasant, murderous qualities. So thugs  a bad reputation way back. A more sanitized version of these thuggies can be found as the antagonists in the Beatles movie "Help. It was around this time that we became a more jam oriented ensemble. We didn't really expect to be around that long as a band. We just kept playing. 
 Theo became  a real booking dynamo. We played virtually every club, restaurant and whatever in Sonoma, Mendocino & Marin counties. We even did New Year's Eve at the MGM Grand in Reno. These original thugz were Theo Mills -drums, Russ Kerger - keys & sax, Ian Favell (sometimes brother Justin) - bass and myself on guitar. Soon we also had Marc Basquette on guitar and various other players that came and went.

  As we became known in the area Barry Marris offered us  a weekly residency at the Blue Heron in Duncans Mills.  It was then that Sylvia joined up and the present day personnel were more or less in place. As time went by we attracted a very cool and loyal following there. Thursday nights became important events to us and these fans.  Duncans Mills is in a fairly remote part of western Sonoma county in California. For many folks (including us) it was the closest place to hear music and even then folks traveled up to an hour or so to get there! We all liked being thugz and many, many great nights of music and friendship followed. We settled into being a Russian River band. We loved the community and various venues and pretty much ignored the rest of the world.
  Well, time went on and we began to expand into the outside world again. We did go through several attempts at picking a new name (The Space Miners, The Happy Flower People,etc.) but there was little agreement and we eventually decided it was pointless. We are who we are. We have been thugz so long now that it would almost seem like a betrayal to our old time fans to pick a more "bookable" band name. Besides, we are not at all interested in being a part of any mainstream entertainment scene. American Idol, Billboard charts? Yuk! Who cares? Not we. We play a rather non commercial archaic form of improvisational Americana kind of music that is fun for us and those with similar tastes.  If someone doesn't want to listen to us or hire us for shows that's fine. There are plenty of people who do so why change horses at this late stage? About as far as we have gone regarding a name change is to use the somewhat awkward acronym "tribal hippie underground zone". Hey, it works for us and we have been able to play lots of cool places like A.T.& T. Park, Camp Winnarainbow and more. You can never please everyone so we do what we and our core fans like. Many of our loyal followers have been supporting us for years and we are very, very appreciative of that. We hope to keep creating music and playing as long as we are able to in our West Sonoma county homeland. If we are able to spread our music and message of peace, love, family and fun  to other areas that is a bonus. Lately we have migrated up the river a few miles (to spawn?) to Guerneville where the Thursday night shows are still going strong.

  This spring marks the 12th year that the band has been playing. To celebrate we are having an anniversary show at Jasper O'Farrell's in Sebastopol on June 28. We are inviting all past and present band members, fans and associates to join us for this party. Thanks so much to all of you that have joined us on our musical adventures. Hope to see you soon!