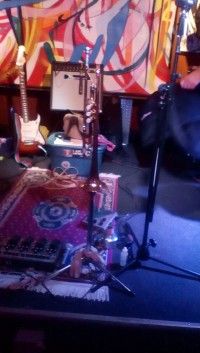 More of a random ramble of a rant/blog this time.
  Fall is here and things tend to slow down in the live music world around here. At the end of September I figured on just shutting down the band and starting up again in the spring--- or  maybe not. Sometimes being a so called "band leader" is not that fun.    There is a lot that goes on behind the scenes that the audience and fans are unaware of, broken gear, broken vehicles, schedule conflicts, hanging posters, keeping ink in the printer, communications, website maintenance, people complaining about the cost at some shows (even though we hardly if ever make any decent money), loading in - loading out, etc.. and other things to whine about that must remain private.
  At some gigs, not all, I felt like I had so much non music stuff to deal with that I couldn't even enjoy playing in the band. These feelings come and go but fortunately things have been a bit better lately. The music has been more enjoyable and there has been some interest from venues about more bookings so on we go. I do feel more invigorated right now even as we go into the dark months. Hey, when the focus is on the music and not the baggage then things are worth it. I get to play with some great fellow musicians and do feel appreciation for the music from so many listeners and dancers. By the way, the trumpet in the accompanying picture was gifted to me by a kind thugz fan. It's a cool horn that I use quite a bit.

 I felt like we did pretty well at our recent Redwood show and I am looking forward to some other things coming up like the return of Thugz Thursday at Rio Nido. The first one will be our annual "Holidaze Party".

 On a different "note" some have asked what happened to our merch table. We did have for quite a while a pretty cool selection of merch items; shirts, hats, stickers, recordings, bottle openers (our biggest seller!) and other stuff (thanks Craig). Some of the funds generated from that went to augment the band members pay and the rest went into an emergency  stash. Well, equipment emergency things did happen. It was good that we had the money saved to buy some new gear and do a few needed repairs on the sound system but it left nothing left to restock merch. Maybe we will scrape together some money for such things again but right now it's not likely. I already, in a previous rant, griped about cd sales going away and that was a significant loss for us but we will see. Maybe we can come up with something although you can probably ascertain that we aren't the greatest business people.
 Well, enough for now. If anyone has read this far I truly appreciate it. Thanks for the support.  It ain't over 'til it's over!
 One more rant - my favorite Johnny Otis quote - "The c in rap is silent: