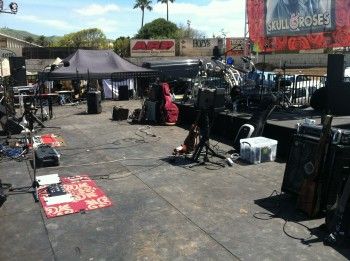 The Thugz have been as far north as Eureka and as far east as Reno but this was our first show in southern California. The Skull & Roses Festival at the Ventura County Fairgrounds was our destination. We made it there and back without too many mishaps. For various reasons the trip down on Friday took 11 hours with no breakdowns other than one vehicle running out of gas and then getting back on the road going the wrong direction. Eventually a passenger noticed seeing the same street names again and a correction was made.
 Arriving at the fest we were ushered to a cool spot near the band food tent where we set up our "thugz camp" which consisted of several tents and trucks clustered around Russ' RV. Thanks to our friend and festival coordinator Greg we were set up with plenty of food, drink and info. Bands were already playing at the fest site which was held in the old fairgrounds dirt race track just a short walk from our camp. It was the site of a number of classic Grateful Dead shows in the 8o's.
 The festival was much larger than I expected. There were two nice stages at each end of the stadium area with many vendors around the circumference selling all things Grateful Dead related.Through a portal was found a courtyard of food trucks and beyond that the parking lot. The parking lot scene was quite large and lively with lots of vending, food and some impromptu musical happenings. Then steps from there was the Pacific Ocean and a nice beach. The weather was warm and the sky was totally blue.Yay!
 It was nice to see David Gans on Saturday morning and also our friend Rosie McGee (a long time GD family/employee involved with the band since the Haight /Ashbury days)
 Our set went very well. No major flubs and some really fun and good jams. The sound system was super good and Drew's expertise at the board was a big plus. I think it was one of our best sets ever.
 Anyway we spent the rest of the day and night hanging out, listening to other bands and watching all sorts of cool light show stuff and even illuminated drones flying above.
 A real fun and uplifting adventure for our little band. We are looking forward to nice new season of music making and this festival was a great kick off!